What the Critics are Saying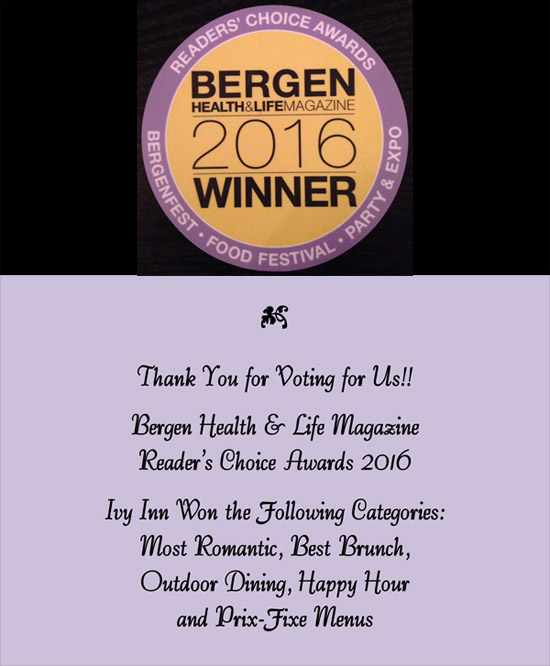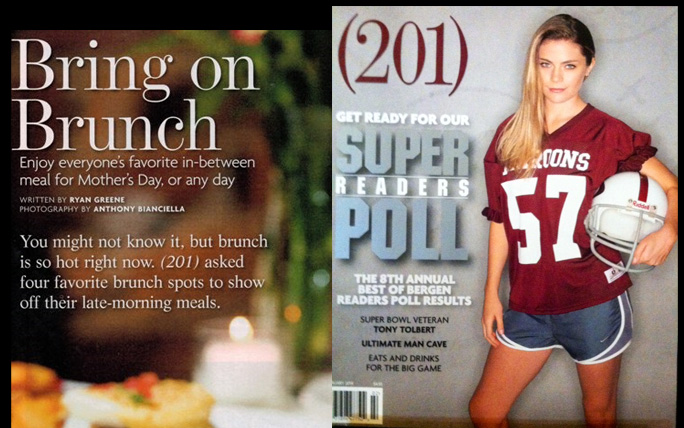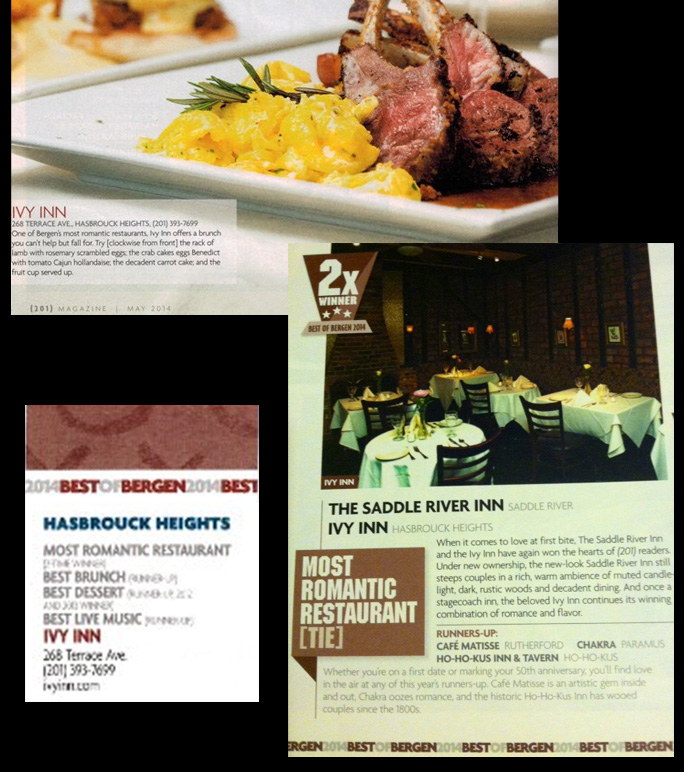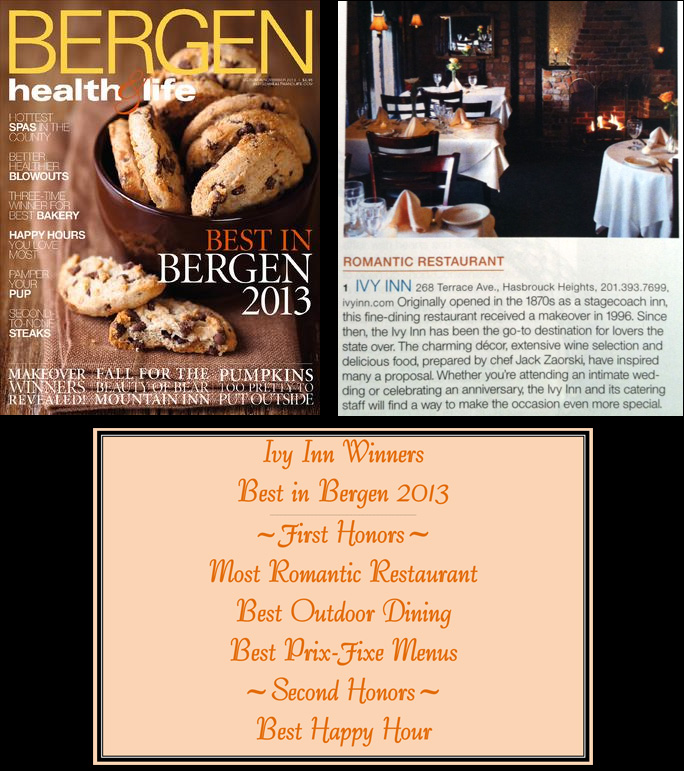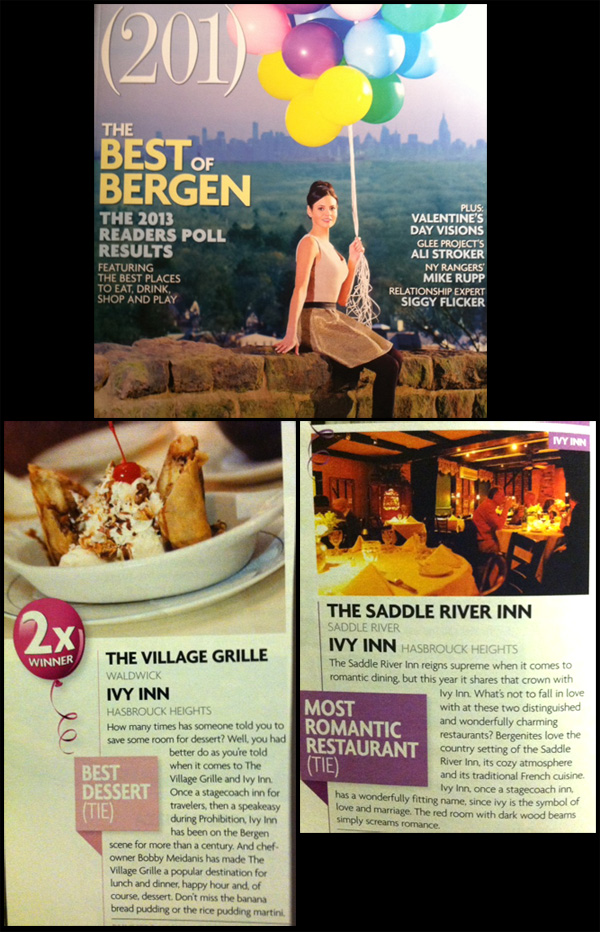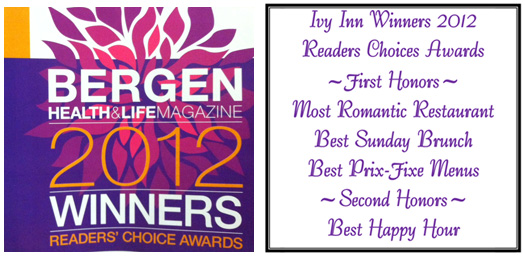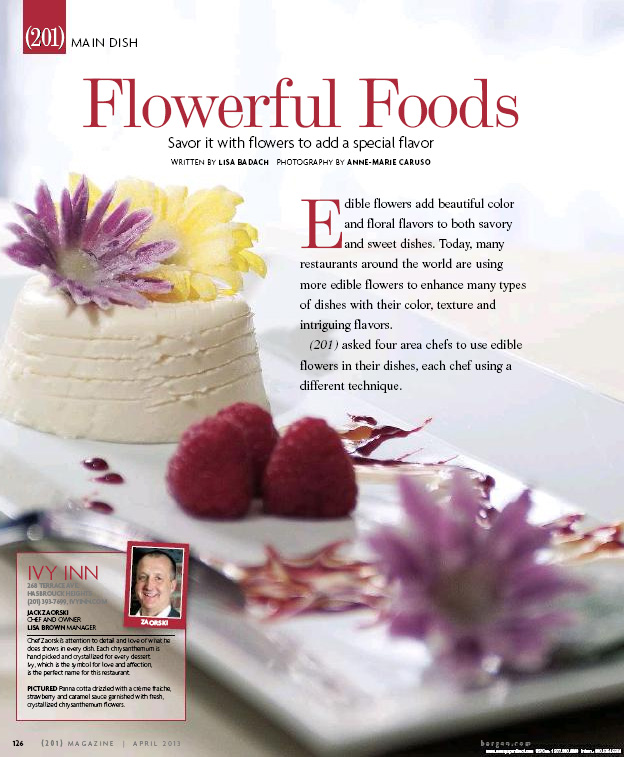 Chef Zaorski's attention to detail and love of what he does shows in every dish. Each chrysanthemum is handpicked and crystalized for every dessert. Ivy, which is the symbol for love and affection, is the perfect name for this restaurant.
Pictured: Panna cotta dressed with a crème fraiche, strawberry and caramel sauce garnished with fresh, crystalized chrysanthemum flowers.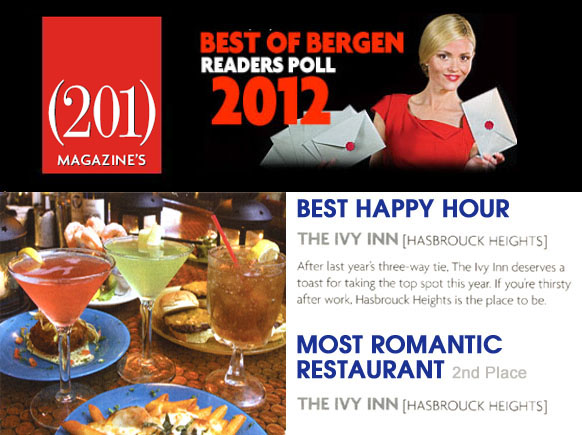 | | |
| --- | --- |
| October / November 2011 | |

September 2011




1st Place - Best Brunch
"This innocently elegant inn served bootlegged beer as a swinging speakeasy during Prohibition. But at its modern Sunday brunch, you sip a mimosa. Try the Maryland crab cake eggs Benedict dripping in tomato Cajun sauce or the Monterey Jack cheese BLT with pommes frites."

Ivy Inn - 2nd Place
Most Romantic & Best Prix-Fixe Menus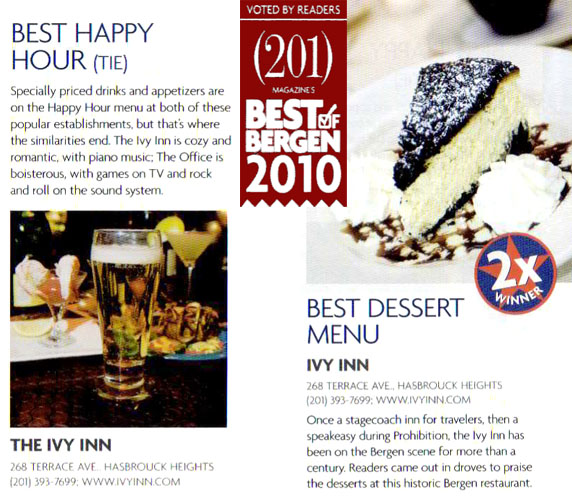 Zagats 2011/2012 New Jersey Restaurants
Rating: "Very Good to Excellent"



The "sense of yesterday" pervades this "rustic" American housed in an erstwhile Hasbrouck House stagecoach inn, where the "interesting" menu includes innovative specials; the ultra-"romantic" setting – complete with a "cozy fireplace", "flickering candles" and an occasional "pianist on the ivories" – draws "lots of couples", while an "attractive" early-bird deal pleases penny pinchers.
Zagats 2010-2011
This former 19th-century stagecoach inn has been refurbished into a "sweet" Hasbrouck Heights Traditional American with "quality food and a friendly staff "; the "cozy", "romantic ambiance" evokes "a small European Cafe", complete with fireplaces, cherry beams and a re-veneered horseshoe bar, and "live piano music" (Thursdays-Saturdays)" adds a nice touch".
Zagats 2003-2004, 2005-2006, 2007-2008, 2009, 2010-2011, 2011-2012 New Jersey Restaurants
Rating: "Very Good to Excellent"
Zagats 2009
"Fireplaces", "rustic" decor and a "warm" ambiance abetted by live piano music (weekends) set the mood for a "quiet, romantic dinner" at this "delightful" "little woodland retreat" in Hasbrouck Heights that's also lauded for its "wonderful", "creative" Continental fare; head over heels groupies wish they could "keep the place for themselves."
---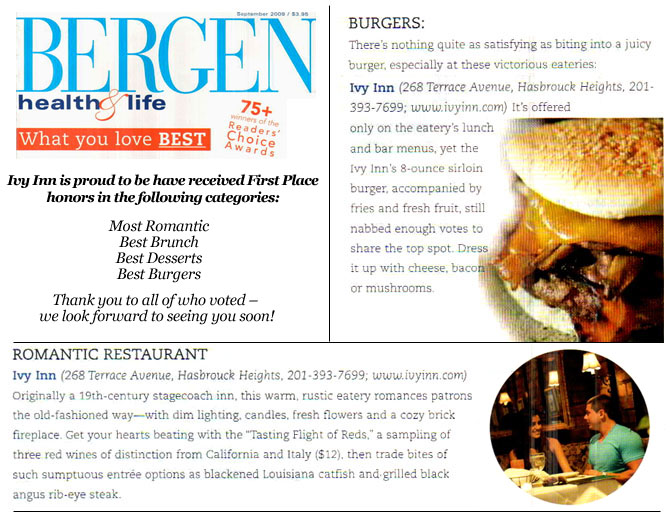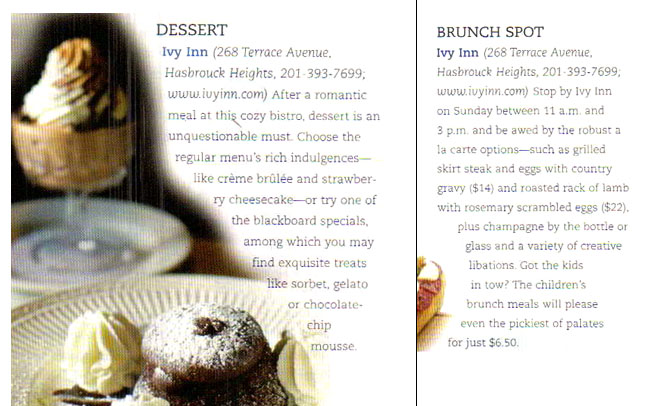 ---

---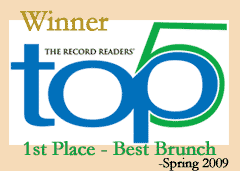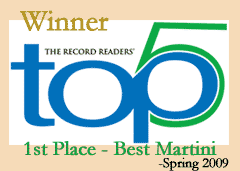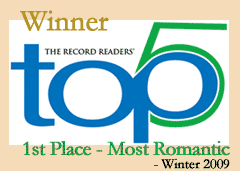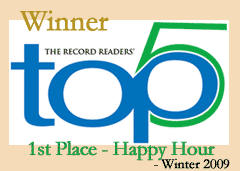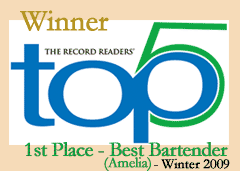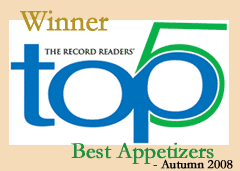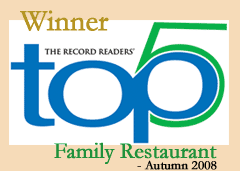 ---
GOLD STAR AWARD
Bergen County Department of Health Services
Dennis McNearney,County Executive
Hansel F. Asmar,Health Officer/Director

PROUDLY RECOGNIZES
IVY INN
FOR EXEMPLARY FOOD HANDLING PRACTICES THAT
EXCEED MINIMUM GOVERNMENTAL FOOD SAFETY REQUIREMENTS
AWARDED NOVEMBER 19TH 2008
---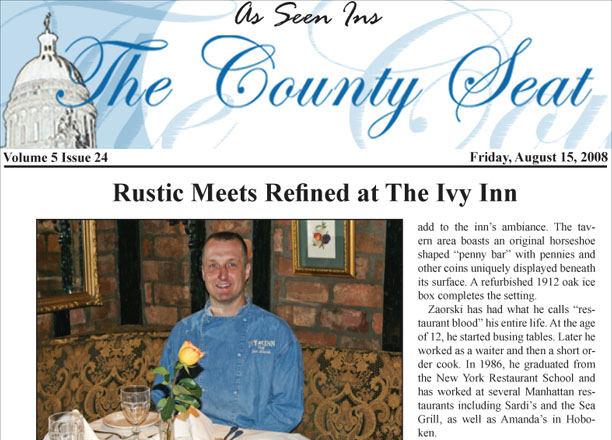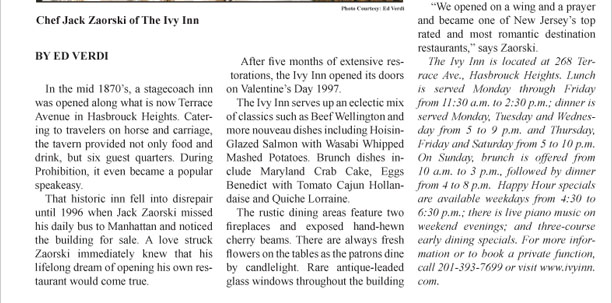 ---
Bergen Record - August 4, 2006
Rating: "Excellent"



""Rustic dark wood, gold-framed botanical prints and fresh flowers on every table set the
tone for this little niche known by regulars and locals to be one of the most romantic places in New Jersey."
"With live piano music on Friday and Saturday evenings and most tables set just for two,
the Ivy Inn is indeed a place to take that special someone."
"Chef Jack Zaorski offers a seasonal menu that matches the quaint, comfortable décor
and portions are large enough for leftovers."
"Spinach Fettuccine was the perfect hot summer evening meal: shrimp, scallops and sun-dried tomatoes in a light herb broth over perfectly cooked noodles. It was filling but not weighty, flavorful but not overbearing."
"The beautifully rustic oven-roasted chicken breast stuffed with an apple and raisin dressing
was comfort food to the max - subtly garlicked chunky mashed potatoes, steamed carrots and haricots verts, drizzled with a warm country gravy."
"The orange roughy was light, moist and perfectly seasoned."
"The wine list is thorough enough to please the most savvy enologist but short enough
to not overwhelm."
"Quite possibly the best deal in town is the early dining from 5 to 6 p.m. Tuesday
through Friday."
"It's no wonder the Ivy Inn is consistently regarded as one of the best places to enjoy a special meal, be it a romantic dinner for two, family gathering or quiet lunch for one. The food is delicious, the service pleasant and the ambience perfect for celebrating any occasion worthy
of such attention."
America Online North Jersey Restaurant Guide
Rating: "Very Good to Excellent"



"Procuring the freshest ingredients, then creatively pairing them to produce fine American-Continental cuisine seems to be Ivy Inn's modus operandi under the helm of Jack Zaorski, a 1986 graduate of the New York Restaurant School and former Sous Chef at Sardi's on Broadway."